Remember my
raw materials
post? We acquired thousands of printers' blocks, and we've been slowly going through them. The only ones I've taken a close look at are ones
I've listed on eBay
. I'll start posting some of the cooler ones -- starting with these cuts: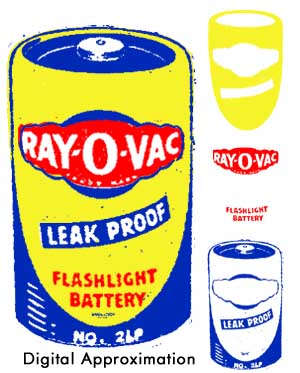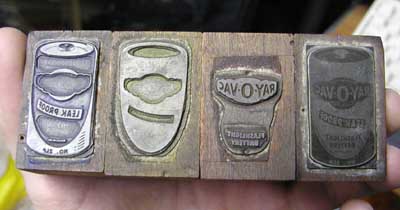 It's a three-color image of a Ray-O-Vac battery (if you couldn't guess). I've developed a cool technique for converting a photo of a print block into something resembling what it would look like if actually run off on a press. To do the pic above, I had to take pictures of all three color blocks, adjust for size and perspective, then change them to the proper color and overlay them. Looks cool, eh?
Those are pretty cool. Hope you get good bids on them. I'll send the link on to friends of mine that work in the printing industry that will be intersted in them.
--pero
, 4/29/2004 12:18:58
Hey D, Cool cuts! And they're leak proof and everything. Sorry to plug up your comment section and all but I'm trying to contact Abi and my alisonbunch@hotmail.com address isn't receiving her emails. Abi, it you see this, could you try language_ny@hotmail.com?? Would love to e-speak with you now that I'm about to become an ex-patriot in your fair country. Also, Derek, have you seen the movie, 24 Hour Party People??? I think you'd love it! It's very Derek. The director is Winterbottom...Jonathan, I believe. Rent it...it's brilliant. Love and stuff, Alison
--Alison Bunch, 5/5/2004 15:57:03