Name a Floor at MIT's Random Hall
Item # 1700894687

Seller assumes all responsibility for listing this item. You should contact the seller to resolve any questions before bidding. Auction currency is U.S. dollars ( $ ) unless otherwise noted.
Name a floor at a genuine MIT dormitory, Random Hall, featured on Slashdot for such technological innovations as the Bathroom Server, Laundry Server, and Foo Display!
We can't come up with a name for our floor, can you? Come up with a cool name, and place your bid. The winning bidder gets his or her name adopted as our official floor name.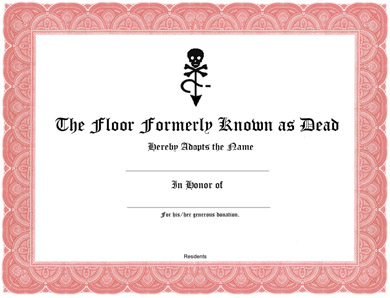 The winning bidder will also receive a handsome certificate signed by all the floor members to commemorate the adoption of our new name!
According to Massachusetts Institute of Technology rules, please refrain from:
Corporate/Company Sponsorship
More than mild profanity
Being lame
Using currently existing names for other floors in our dorm, including: Dead, Dragon, Foo, Loop, Blackhole, BMF, Clam, Bonfire, and Pecker.
We reserve the right to refuse any overly offensive or retarded names. According to the Random Constitution, the name may be changed at a later date by a majority vote.
Happy bidding!
---
On Feb-12-02 at 17:46:41 PST, seller added the following information:
Read the article about this auction on Plastic.com! We're just glad other people have as much free time as us! Precious.




Free Counters powered by Andale!
Top Questions From This Page



---




Copyright © 1995-2002 eBay Inc. All Rights Reserved.
Designated trademarks and brands are the property of their respective owners.
Use of this Web site constitutes acceptance of the eBay User Agreement and Privacy Policy.